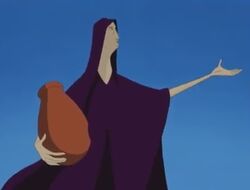 ""Dreams? When will Israel open its eyes?"
―Miriam
Miriam was the daughter of Amram and Jochebed, and the sister of Moses and Aaron. She helped Jochebed to serve as Moses' nursemaid after he was adopted by Thermuthis. After Moses has grown and Merneptah becomes Pharaoh, Miriam is much less supportive of him than Aaron, but helps to lead the Hebrews out of Egypt after the Ten Plagues, even declaring she is willing to stand and fight when Pharaoh's men pursue them.
She was voiced by Anna Carteret.
Community content is available under
CC-BY-SA
unless otherwise noted.