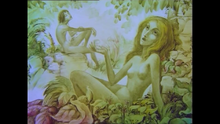 " I made you a world, now you make your own " -
God
to Adam and Eve
According to the Mythologies of the Jews, Christians, and Muslims: Adam and Eve were the first humans to ever exist and where made in God's own image around 6,000 years ago. Eve was tricked by Lucifer in the form of a snake to eat the forbidden fruit and then Eve tricked Adam into eating the forbidden fruit. After they sinned the world became filled with death and destruction. They covered themselves with leaves to cover up their nakedness. They were forced to leave the Garden of Eden.
Eve was voiced by Kelly Hunter.
Adam and Eve had hundreds of children in some versions of the Bible it is said they had around 300 children. The oldest was their son Cain.
Cain killed his younger brother Able, because God favored Able's sacrifice over Cain's sacrifice.
Adam lived 930 years after sinning. It is unknown how long Eve lived.
Eve was made by Adam's rib. Adam was made in God's own image.
Adam's name means, " to be red " and Eve's name means, " Famous Bearer".
Community content is available under
CC-BY-SA
unless otherwise noted.